Europe
There is no way to journey through Europe and not be spellbound by its sheer variety. From historic ruins to modern marvels, natural beauty to man-made treasures, dazzling arts, culinary prowess – plus a fascinating array of cultures and languages. The diversity of sights on offer is what draws visitors time and again: Renaissance art in Florence, gritty urban sprawl in London, Athens' deep antiquity, eastern influences in Istanbul. Linking it all is the spectacular natural scenery, from snow-dusted mountains to the unspoilt beaches of the Mediterranean.
Once you've explored, you'll want to satisfy your appetite, and in Europe the options are endless. Pizza in Naples, schnitzel in Vienna, pastries in Paris: whether you choose a fine dining restaurant or a hole-in-the-wall only locals know, you're sure to be delighted.
Travelling across this beautiful continent is made simple thanks to the fast and efficient train network: you can fall asleep in Italy and wake up in northern France, or perhaps start your day in Budapest and finish in Turkey. Speeding through the scenery on board a luxury train is the best way to explore.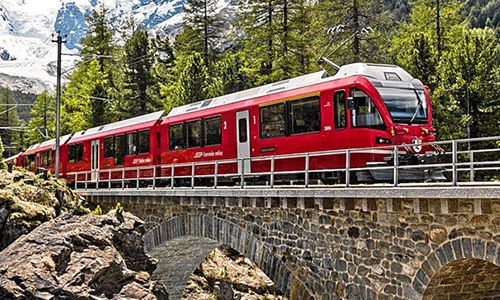 Bernina Express
Consider some of Europe's most unforgettable scenery and it's likely you'll spot it from your window on the Bernina Express. Snaking through the Swiss Alps, the train links the verdant pastures of Chur with the Italian Lakes, navigating bridges, tunnels and viaducts with the most spellbinding views of alpine wonderland. The route takes in one of Europe's highest railways, seemingly touchingly close to the shimmering glaciers. This shorter four-hour journey is the perfect way to explore the mountains without needing to don crampons. The scenery is vastly different depending on the time of year at which you decide to travel. Choose the spring months for velvety green landscapes, summer for golden grasses and the bluest skies, autumn for total peace and burnished treetops, and the winter for the most scenic landscapes of all, a land of sparkling snow and ice.
Gazing out over a mountain landscape blanketed in snow as you navigate the alpine wilderness of Switzerland
Taking a moment to soak up the views from the mountains surrounding Lake Como, with spectacular sunsets over the great lake
Sampling locally made sparkling wine on board, with a plate of delicious regional cheese and charcuterie
Visiting in spring to view the verdant pastures and wildflowers of Chur and St Moritz
Our latest European offers
All of our holidays include flights and transfers

Can't find what you're looking for?
Try searching below
Book with confidence
Book with complete confidence with us as we are members of the Australian Federation of Travel Agents, as well as being accredited by ATAS.
Fully Protected
You're in safe hands with a reputable, accredited travel agent.
Service & Expertise
Our experienced team create unique rail holidays tailored to you.
Highly Recommended
4.5/5 of our customers would happily rebook with us.
Exceptional Value
We're obsessed with delivering exceptional value on every rail holiday.