Italian Lakes Retreat and Scenic Swiss Rail
Luxury Escorted Tours & Hotel Stays
13 nights | 13 Jun 2020
Italian Lakes Retreat and Scenic Swiss Rail
Luxury Escorted Tours & Hotel Stays
13 nights | 13 Jun 2020
Italian Lakes Retreat and Scenic Swiss Rail
Luxury Escorted Tours & Hotel Stays
13 nights | 13 Jun 2020
Italian Lakes Retreat and Scenic Swiss Rail
Luxury Escorted Tours & Hotel Stays
13 nights | 13 Jun 2020
Get the full experience...
Embark on this incredible tour of the spectacular Italian Lakes and enjoy fabulous hotel stays with fascinating excursions.
Surrounded by enchanting views of snow-capped mountains and steep-wooded hills and dotted with botanical gardens with bursts of Mediterranean colour, rich greenery and quaint towns; the iconic Italian lakes offer beguiling beauty.
Explore the natural attractions, Baroque architecture and fascinating culture of Lake Maggiore, Lake Como and Lake Garda as you roam the picturesque landscapes, discovering historical churches clinging to cliff faces and exquisite villages of rustic charm.
Your stays across three majestic lakes offers fascinating excursions delving deeper into the stunning scenery. Board a panoramic train for a magical journey through the stunning Centovalli as you pass by deep gorges with cascading waterfalls and venture across colourful alpine meadows to Locarno; head to the ski resort of St. Moritz, passing majestic mountains and the serene Lake Bianco and enjoy a wonderful Wine tour tasting some of the flavours from the local area.
Paired with luxury hotel stays, this retreat will be a holiday to remember.
Your Experience
All flights, taxes & transfers
Rail Journeys

A fully escorted Centovalli Express Tour through the Swiss Alps
A fully escorted Bernina Express Tour

Hotel Stays

4 night stay at Lake Maggiore with breakfast
4 night stay at Lake Como with breakfast
4 night stay at Lake Garda with breakfast
1 night stay at Milan with breakfast

Fully Escorted Tours

A fully escorted Wine Tasting Tour
Your Itinerary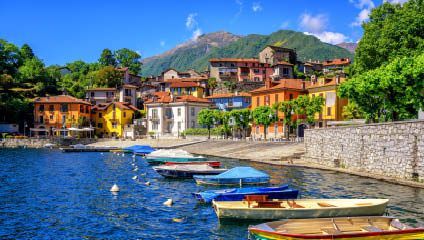 Upon arrival in Milan, you'll be transferred to your hotel, located on the cusp of Lake Maggiore and the magnificent Gulf of Borromeo, for your four night stay.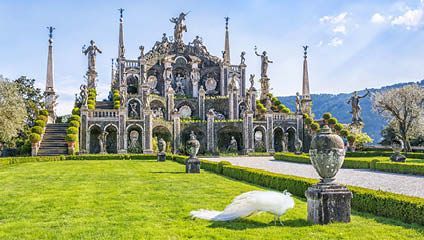 The day is yours to explore the enchanting lake views and natural attractions. Delve into the depths of the art and culture encased within the landscapes. Head to Isola Bella and be transported to a bygone era where the baroque architecture blends with the lush green gardens. Wander through the palace, passing elegantly furnished living rooms and gaze out at the splendid views of the lake or, lose yourself in the paradise of the Italian Baroque Garden. Filled with statues, terraces, stairways, balustrades and beautiful flora, you'll enjoy a blissful atmosphere and glimpses of a time of days gone by.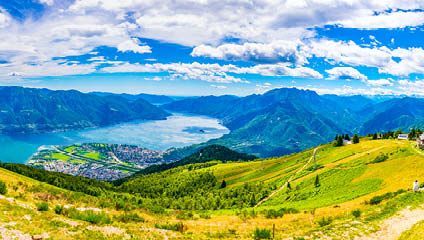 Today you'll enjoy a picturesque panoramic train journey from Domodossola to Locarno, across 52km of magical landscapes and lush vegetation. This unforgettable experience will take you through the stunning Centovalli, "One Hundred Valleys", as you pass by deep gorges and crevices with glittering, cascading waterfalls; and venture across colourful alpine meadows, over numerous bridges and through vineyards and forests of chestnut trees. Upon arriving in Locarno, on the Swiss shores of Lake Maggiore, you'll enjoy some time to embrace the atmospheric surroundings and explore the treasures within. Pay a visit to Madonna del Sasso, a highly decorated Catholic sanctuary overlooking the city, which can be reached by the funicular railway.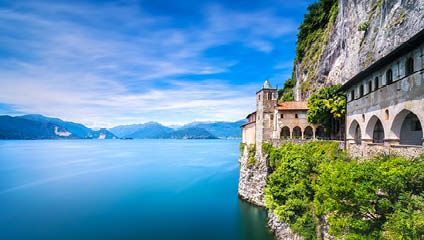 Spend some time exploring Lake Maggiore with a visit to one of northern Italy's most spectacularly sited monasteries, Santa Caterina del Sasso. The beautiful buildings span the 13th and 14th centuries and cling to the high rocky face of Lake Maggiore's southeast shore, providing superb views from the tiny courtyards. Climb up 80 steps from the Santa Caterina ferry quay and enter by the portico, as you pass through the south monastery, you'll be greeted by gothic architecture and fresco series depicting the Danza Macabra (Dance of Death).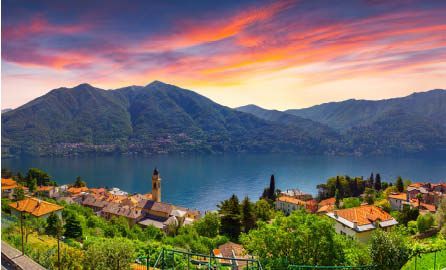 Your next lake stop will be the magnificent Lake Como where you'll be transferred to your hotel for your four night stay. Perfectly situated on the edge of the lake, this hotel is the perfect location to enjoy the spectacular views of the tranquil waters.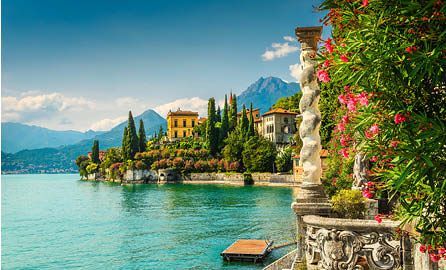 Poised in the shadow of the snow-draped Rhaetian Alps and nestled between steep-wooded hills, the spectacular surroundings of Lake Como welcome you with open arms. Shaped like an upside-down Y, its meandering shoreline is dotted with ancient villages and exquisite villas. Wander aimlessly along the lake, crossing through gardens, visit the main square and explore the centre's history or head to Brunate using the funicular and witness breathtaking views of the shore and lake below.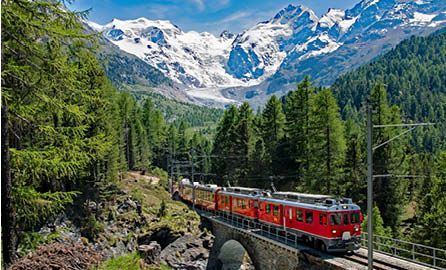 Today you'll board a bus to Tirano, located in the Valtellina valley in Italy. From here you'll embark the iconic Bernina Express for a panoramic train for a journey to St. Moritz, passing through the Poschiavo Valley and the Engadin. En route, you'll enjoy incredible sights of majestic mountains and quaint little towns as you trundle over the Brusio spiral viaduct, past Puschlaversee, over Alp Grum and onto the magical Bernia Pass. Before reaching your final destination of St. Moritz, you'll savour incredible views of Lake Bianco and its shield of the snow-capped Morteratsch Glacier. St. Moritz offers the perfect opportunity to ski, enjoy a bike ride or explore the town that has hosted the Winter Olympics twice.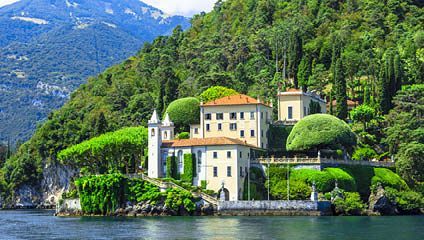 Embrace your last full day on Lake Como. This iconic destination offers something for everyone. For movie fans, head to the iconic Villa Balbianello, an elegant and romantic 18th century residence that has not only hosted writers and travellers but has also provided a set for numerous films including James Bond and Star Wars. For science and history fans, pay a visit to Tempio Voltiano, a museum situated in the city that is dedicated to Alessandro Volta, a prolific scientist and the inventor of the electrical battery. Or, for fashion fans, discover the Silk Museum and learn more about the production process from silkworms to coloured yarns, handprints to fashion collections – a truly unique day out.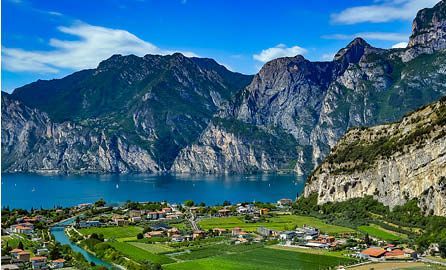 Fully rested you'll be transferred to Lake Garda for your wonderful four night hotel stay at Hotel Solho. Standing proudly near the lake and the charming village of Bardolino, you're not far from the beach, surrounded by a lush Mediterranean park with olive trees, oleanders and palm trees. Take a relaxing stroll and dip your toes in the warm shore waters, or head to Ristorante La Cantinetta and enjoy stunning views as you tuck into delicious seafood cuisine or simply relax in the hotel spa and enjoy an incredible massage.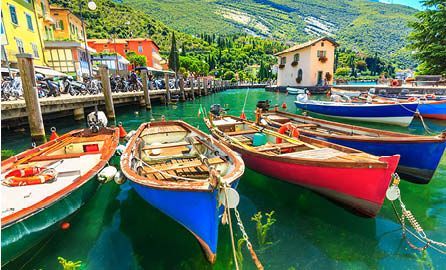 Spend a day walking in the hills and taking in the breathtaking views over the lake – we'd recommend taking the Monte Baldo cable car – or perhaps take a boat out to one of the other towns on the coast to see a different side to the area. You could also pay a visit to Sirmione and delve into its thermal springs, extraordinary castle and Roman ruins; or Riva del Garda with its medieval fortifications and cobblestone streets.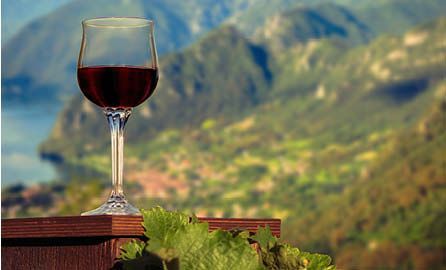 Today you'll enjoy a fabulous wine tour at a local winery. Beginning with a tour of the winery and beautiful vineyard, you'll discover more about the soil, grapes, the wine and how it's made. Tickle your taste buds with tastings of typical wines which you'll savour paired with some delicious nibbles of breadsticks, cheese and olives.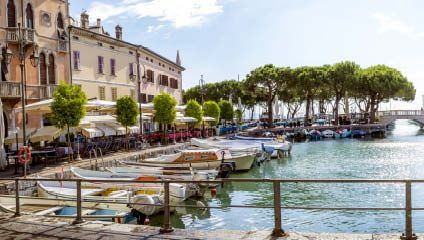 Italy's beautiful lakes are one of the country's most scenic regions, where the Northern Alps tumble down into shimmering waters, dotted with silver-leafed olive trees and pretty villages. Each little town on the lake brings a chocolate box of new discoveries: a church resplendent with Renaissance frescoes, a lush botanical garden, a cable car soaring high into snow peaked mountains – there's so much to discover.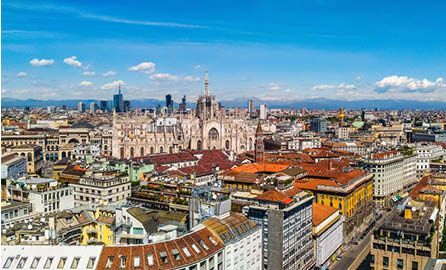 Transfer to Milan and enjoy a hotel stay at the Starhotels Anderson, in the spiritual home of fashion and design. Milan is a city where fashion-lovers can take their pick of designer boutiques and pre-dinner cocktails are almost an art form. Explore the rich architecture with a visit to Milan's ornate Opera House and Duomo, with its abundance of spires, pinnacles and statues.
Your train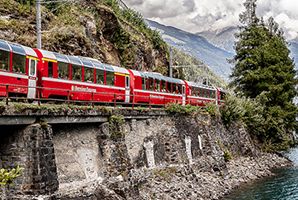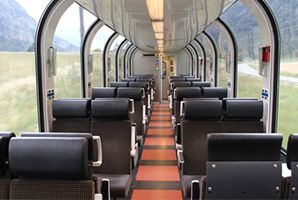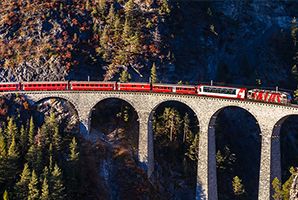 The Bernina Express
It's often described as the finest way to cross the Alps, and the scenery that the Bernina Express passes through is certainly unforgettable. Not only does it bring together the alpine charm of St. Moritz and the green pastures of Chur, it also links the different languages and cultures of Switzerland, one of Europe's most visually spectacular countries, and Italy, the land of La Dolce Vita.
The train ascends one of the highest railways in the mountains, amid shimmering glaciers, before descending to the palm-fringed lakeshores of Italy. Once you arrive in Tirano, there's an additional bus service to Lugano, back in Switzerland, passing along the glittering shores of Lake Como and Lake Lugano.
This is a shorter journey, so there are no luxury cabins or overnight stops, just a relaxing seat for whistle-stop tour of the Alps and a choice of refreshments on board.
Find out more about
Prices & Availability
Select an airport and cabin grade.
Flight from
Other regional airports may be available*
CALL TO BOOK:
1300 729 595
HOLIDAY CODE:
EUR2342
You may also be interested in...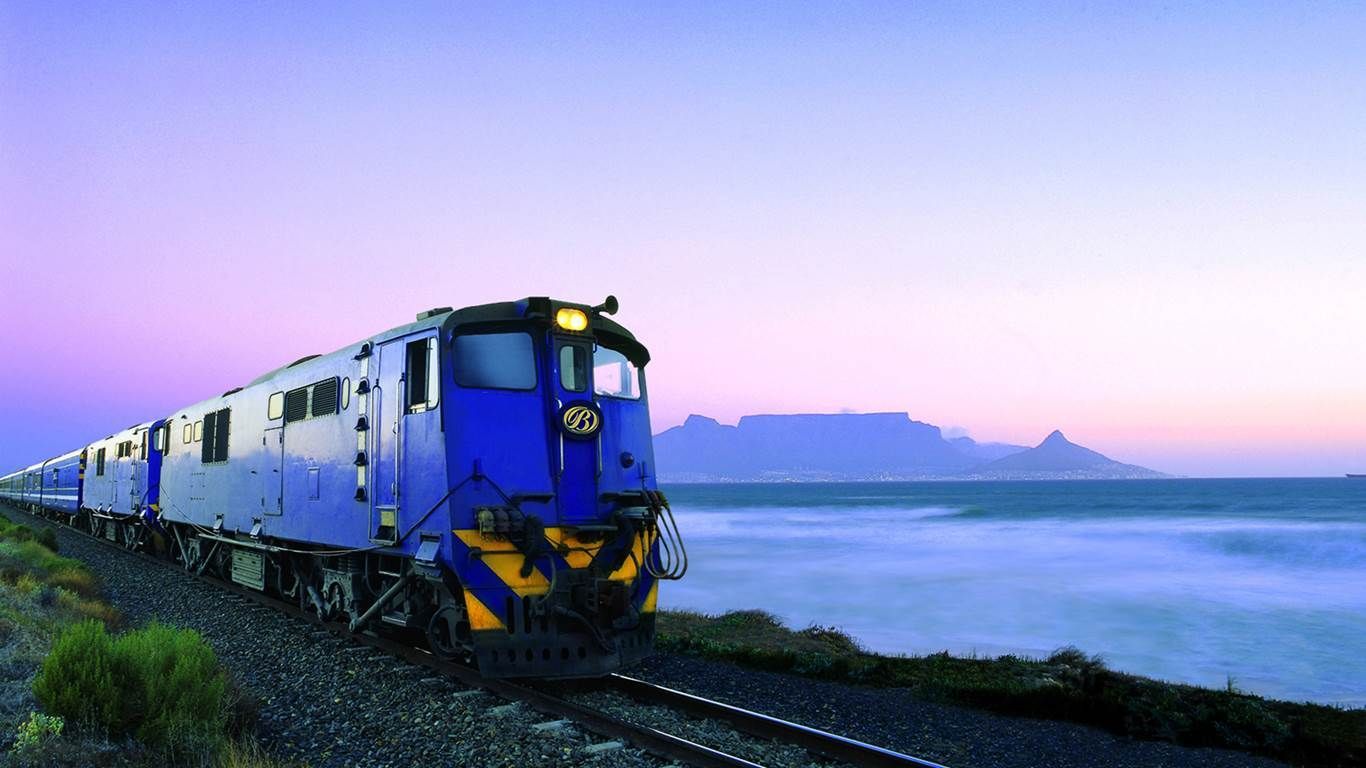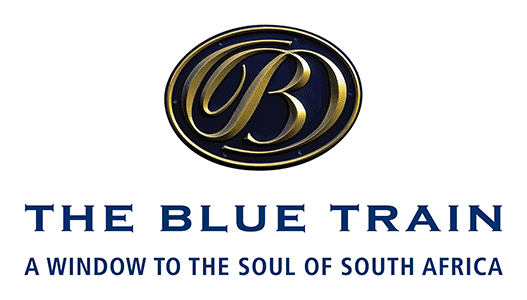 The Ultimate African Experience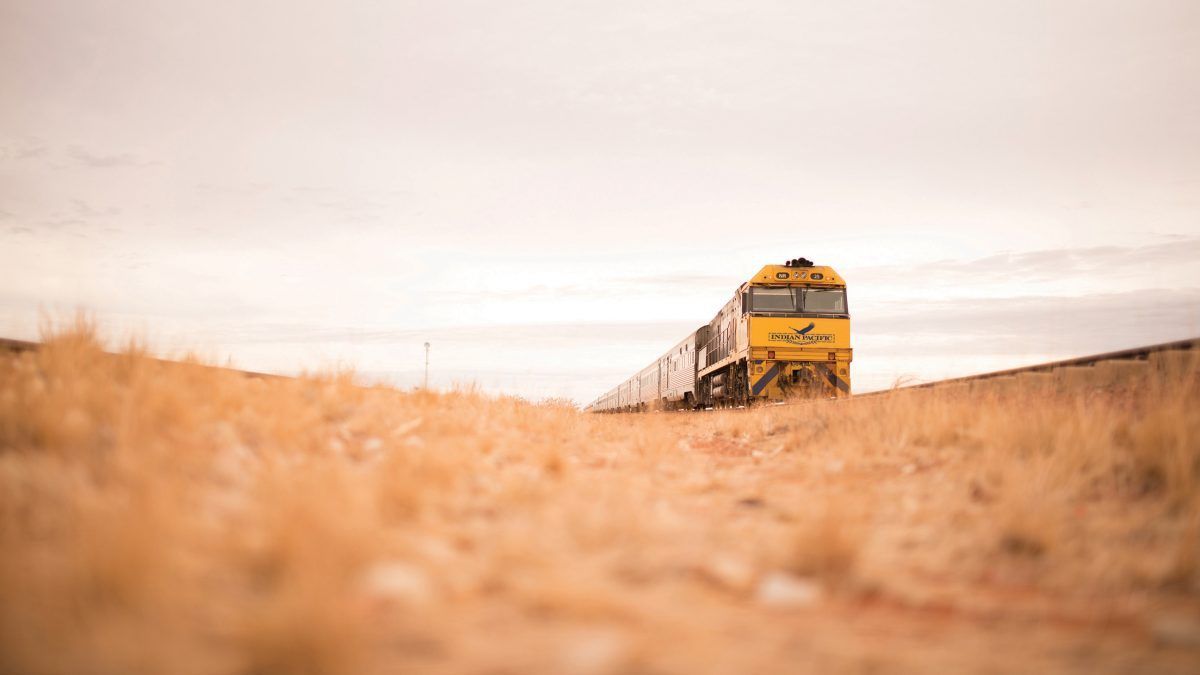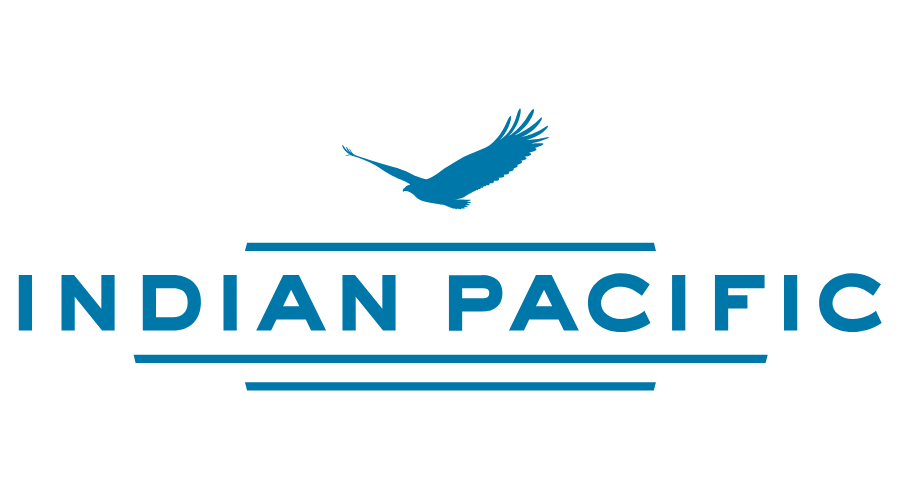 The Indian Pacific & Perth Discovery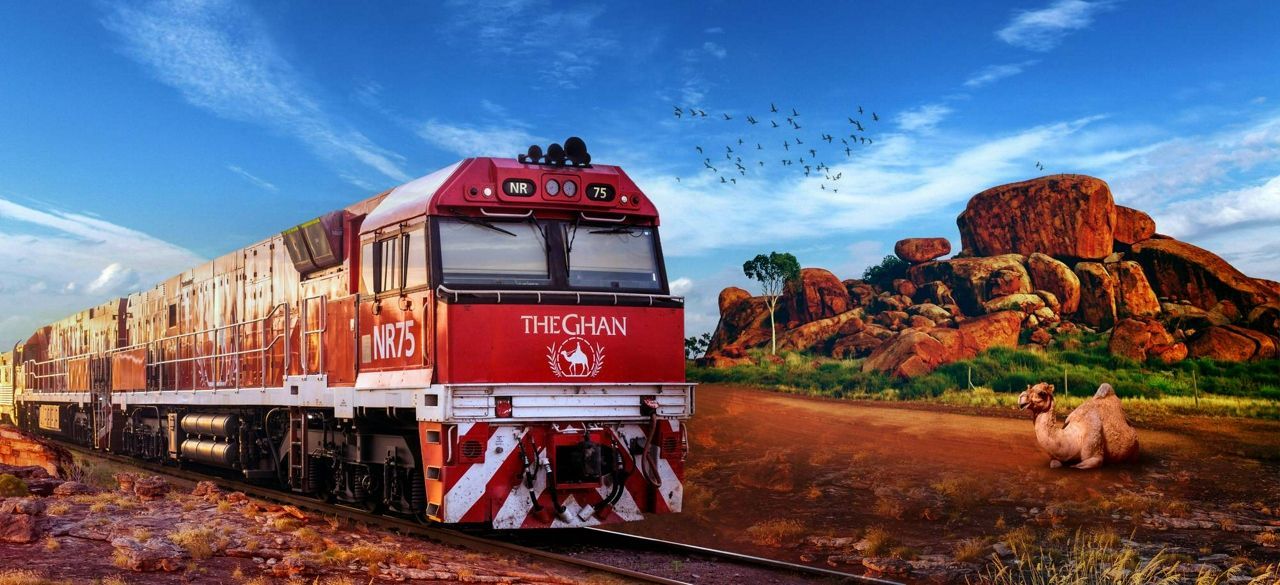 Darwin to Adelaide Expedition
Book with confidence
Book with complete confidence with us as we are members of the Australian Federation of Travel Agents, as well as being accredited by ATAS.
Fully Protected
You're in safe hands with a reputable, accredited travel agent.
Service & Expertise
Our experienced team create unique rail holidays tailored to you.
Highly Recommended
4.5/5 of our customers would happily rebook with us.
Exceptional Value
We're obsessed with delivering exceptional value on every rail holiday.