Darwin to Adelaide Expedition
3 night all-inclusive rail journey from Darwin to Adelaide
Save up to $2,000 Per Couple
10 nights | 14 Mar 2020
Darwin to Adelaide Expedition
3 night all-inclusive rail journey from Darwin to Adelaide
Save up to $2,000 Per Couple
10 nights | 14 Mar 2020
Darwin to Adelaide Expedition
3 night all-inclusive rail journey from Darwin to Adelaide
Save up to $2,000 Per Couple
10 nights | 14 Mar 2020
Darwin to Adelaide Expedition
3 night all-inclusive rail journey from Darwin to Adelaide
Save up to $2,000 Per Couple
10 nights | 14 Mar 2020
Get the full experience...
Thunder through ever-changing landscapes encased in the elegance, style and luxury of the Ghan train, during a journey to remember from Darwin to Adelaide.
Your holiday begins in Darwin where you'll have three nights to explore the capital of Australia's Northern territory. Daredevils can get up close and personal with a croc at Corocosaurus Cove, or for those who'd prefer to keep their feet on dry land, there's plenty of museums and galleries where you can learn about Aboriginal culture, or waterfront restaurants and bars to sit back, relax and soak up the atmosphere in.
Following your stay you'll board the legendary Ghan train for your journey of discovery to Adelaide. Wind through the MacDonnell Ranges' rusty red hues and the charms of the South Australian plains, as you tuck into gourmet meals prepared by professional chefs, using locally sourced ingredients so you can enjoy a true taste of the outback. You'll enjoy included off-train excursions during your journey letting you fully discover destinations such as Katherine, Alice Springs and Coober Pedy as you uncover ancient cultural stories and view stunning landscapes as you trail through Australia in style. As dry and dusty outback makes way for golden hills, you'll know you've arrived in Adelaide where you'll disembark for a three night hotel stay. Sophisticated and multicultural, Adelaide is infused by a curious blend of influences that flavours its restaurants, arts scene, live music calendar and bars.
Extend your Top End experience with a fully escorted 3 day tour of Kakadu & Arnhem Land before exploring Darwin.
Day 1: Darwin-Kakadu
Begin your holiday with a fascinating tour to Kakadu National Park, exploring the spectacular scenery of Arnhem Land en route. Beginning in Darwin, you'll travel along the Arnhem Highway, their major river systems and wetlands, into Kakadu National Park.
Located 257 km east of Darwin, this national park covers 20,000 square kilometres of landscape, from rocky escarpment – home to historic Aboriginal rock art dating back thousands of years, to floodplains abundant with wildlife. Pay a visit to the Warradjan Cultural Centre to view the informative displays depicting the traditions of the Aboriginal people in Kakadu. You could also join your local guide on a cruise of Yellow Water Billabong in search of saltwater crocodiles and the colourful range of birdlife. Following lunch, you'll stop at Nourlangie where your guide will lead you on a walk to view the rock art galleries.
Day 2: Arnhem Land by 4WD
Fully-rested, today you'll enjoy an early start as your travel by 4WD into Arnhem Land and the Mikinj Valley. Admire the spectacular surrounding scenery as you journey through sandstone outcrops, escarpments, forests and floodplains. During your guided tour, you'll discover the traditions of land ownership, bush skills and 'bush tucker' and view Aboriginal rock art in its pure, natural state.

Day 3: Kakadu - Darwin
This morning, you'll join your experienced guide to explore the World Heritage Area of Ubirr, where you'll climb up through the ancient Aboriginal rock art galleries, believed to be 20,000 years old, to the lookout for the mesmerising view over the surrounding wetlands. Join the Guluyambi Cruise along the East Alligator River, during which an Aboriginal guide will provide an insight into their culture, including local mythology, the river's abundant food chain; as well as a few bush survival skills. With special permission from the local people, you'll be able to go ashore in Arnhem Land; pay a visit to the Bowali Visitor Centre to discover a wealth of information about Kakadu National Park and view beautiful art in the Marrawuddi Gallery, before returning back to Darwin.
Your Experience
All flights & taxes
Rail Journey

3 night all-inclusive rail journey from Darwin to Adelaide with all meals, fine wines and beverages
All-inclusive off-train excursions and short stops in Katherine, Alice Springs and Coober Pedy

Hotel Stays

4 nights at a 4 star Darwin hotel
3 nights at a 4 star Adelaide hotel

Tours

Fully escorted Litchfield National Park Waterfalls tour with lunch
Darwin Sunset Dinner Cruise
Fully escorted half-day Jumping Crocs and Nature Adventure tour
Fully escorted Northern Barossa Valley tour with lunch and wine tastings

Extend your stay - 3 Day Kakadu & Arnhem Land Fully Escorted Tour fr $1,199pp

Join a 3 day tour before your Darwin stay and spend 3 days with a local guide exploring all the intricacies of this incredible scenery
Your Itinerary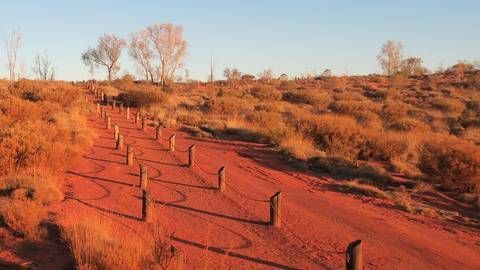 The capital of Australia's Northern Territory is blessed with a cosmopolitan mix of culture and stunning natural scenery. during your three night hotel stay visit Skycity and enjoy a lavish day out by the pool or gambling at the casino. If something more traditional takes your fancy, visit the locals at Crocosaurus Cove, and get a glimpse of Australia up close and personal!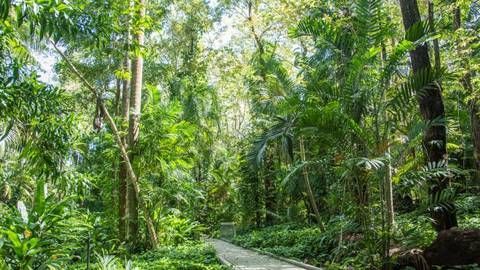 From the sparkling harbour and WWII history to the city's Asian-influenced food and tropical outdoor lifestyle, Darwin is an adventurers' paradise. Treat your tastebuds and indulge your sense of fun and adventure in the Territory's tropical capital city. Darwin is world famous for its fabulous food, colourful outdoor markets and a diverse bag of adventure activities.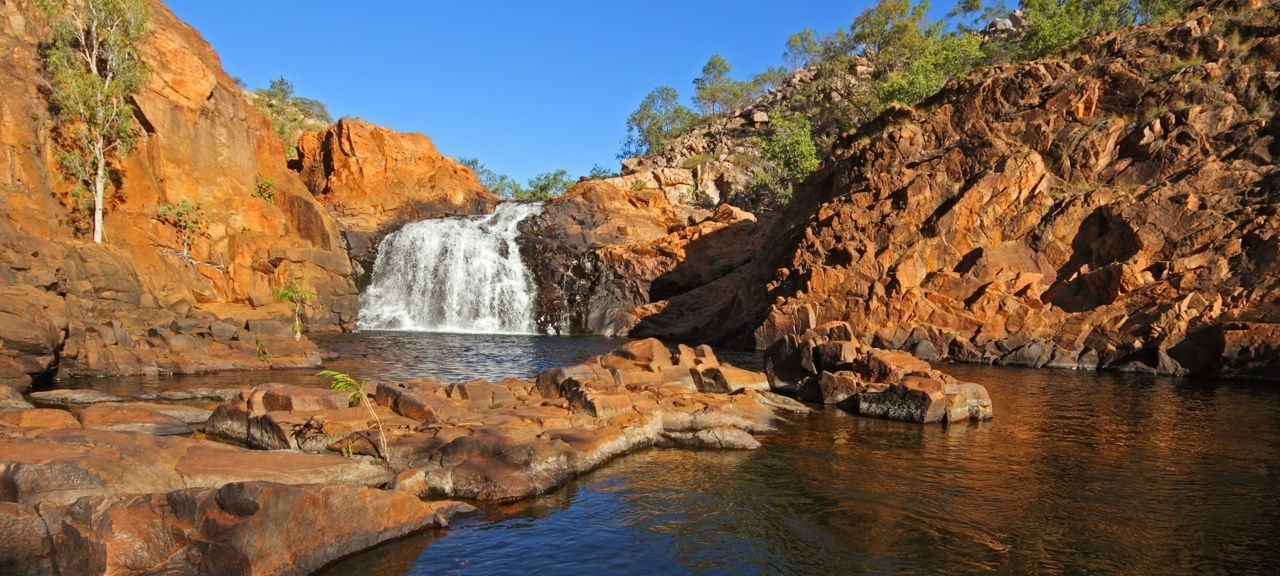 Litchfield National Park contains several types of typical Top End habitats including lush monsoon forests, termite mounds, unusual rock formations, waterfalls and cascades. First stop of the day is Florence Falls, where you have the opportunity for a scenic walk, or the chance for a swim in the plunge pool below. Travel on to Tolmer Falls for magnificent views of the water cascading down to the deep waterhole at the base of the falls. To finish the day you will visit Wangi Falls, another relaxing spot for a swim. There are many great opportunities for photos of the waterfalls, rock pools and the amazing stand of termite mounds.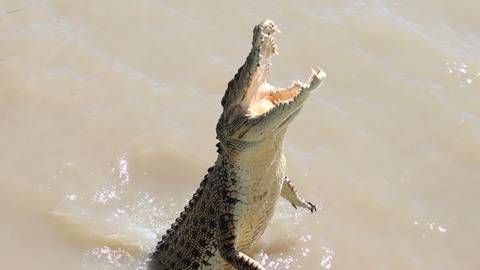 Just 60km from Darwin lies the Adelaide River, home to over 1600 crocodiles and the location of the famous Jumping Crocodiles. Join this tour in the afternoon and travel down the Stuart Highway to Adelaide River, enjoying commentary about the outskirts of Darwin along the way. Cruise the river and thrill as these awesome creatures launch themselves out of the water. The cruise will enable you to see these prehistoric creatures at close range. Afterwards continue to the Window on the Wetlands Visitor Centre for a view over the Marrakai Plains and then it's on to Fogg Dam Nature Reserve to view a wetland ecosystem up close. It's also a good opportunity to spot for birds and other wildlife.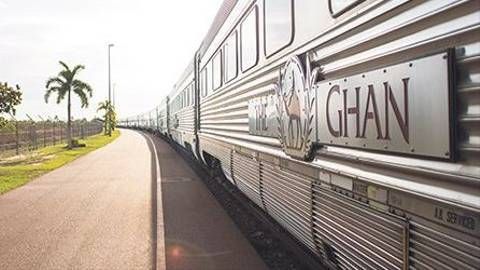 Following your Darwin stay, board the legendary Ghan for your four day journey through the Australian Outback. Friendly staff will lead you to your comfortable private cabin where you'll be able to settle in and admire the view outside your window begins its smooth and spectacular transformation. Enjoy lunch in the Queen Adelaide Restaurant, full of culinary wonders prepared by talents on board chefs. Before you know it, discover the ancient sandstone cliffs of Katherine Gorge where you can soak up the beauty and inspiring silence of the outback.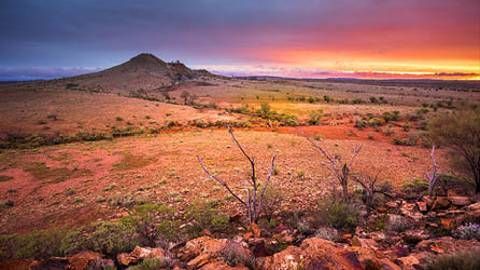 Wake up to a new view outside our window, in a world which feels miles from home. Watch as the sun rises over the endless outback, as one of the most spectacular views you may ever see!
Following breakfast, arrive in Alice Springs ready for a day of exploration. With the opportunity to indulge in one of the included off train excursions, you'll have ample time to discover everything on offer.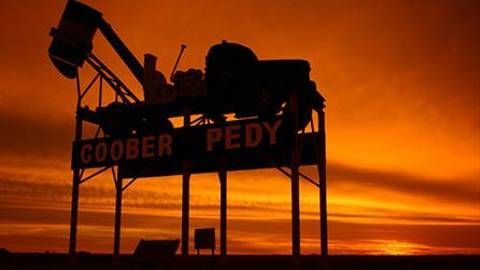 Arrive in the middle of nowhere as your train stops in Manguri. Here, a friendly tour guide awaits where you will be whisked away to the opal mining capital of Coober Pedy. Venture into the tunnels and caves of this underground town, where you'll get an insight into how many individuals live.
Following your exciting tour, jump back on board to prepare for your final evening on The Ghan. Dine in style, meet and share stories with new found friends or simple wind down in the comfort of your cabin.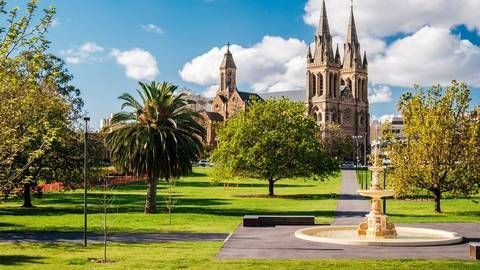 Sophisticated and multicultural, Adelaide is infused by a curious blend of influences that flavours its restaurants, arts scene, live music calendar and fashionable bars.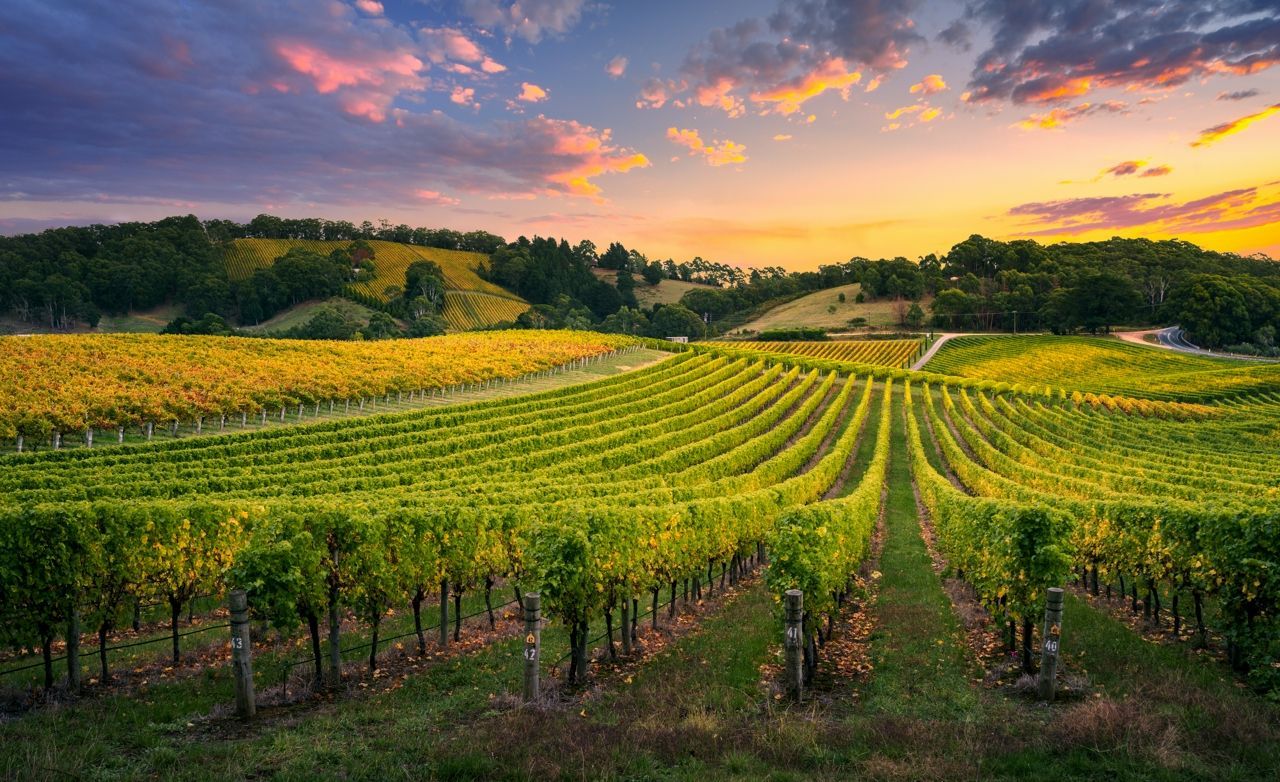 This world-renowned wine region is a must see for wine lovers visiting Adelaide. Full of history, this region is home to over 80 cellar doors. Visit one of the oldest vineyards in the world, with Shiraz vines planted in 1843. Enjoy up to four wineries / cellar doors and be guided through the wine tasting experience by passionate vignerons. Two wine regions combine to make up the Barossa Valley; Eden Valley for amazing Riesling and cool climate wines and Barossa Valley, home to some of the world's best Shiraz as well as Grenache, Cabernet Sauvignon Mataro, Semillon and Chardonnay. Barossa Valley also has a long relationship with fortified wines with many cellar doors offering outstanding tawny port!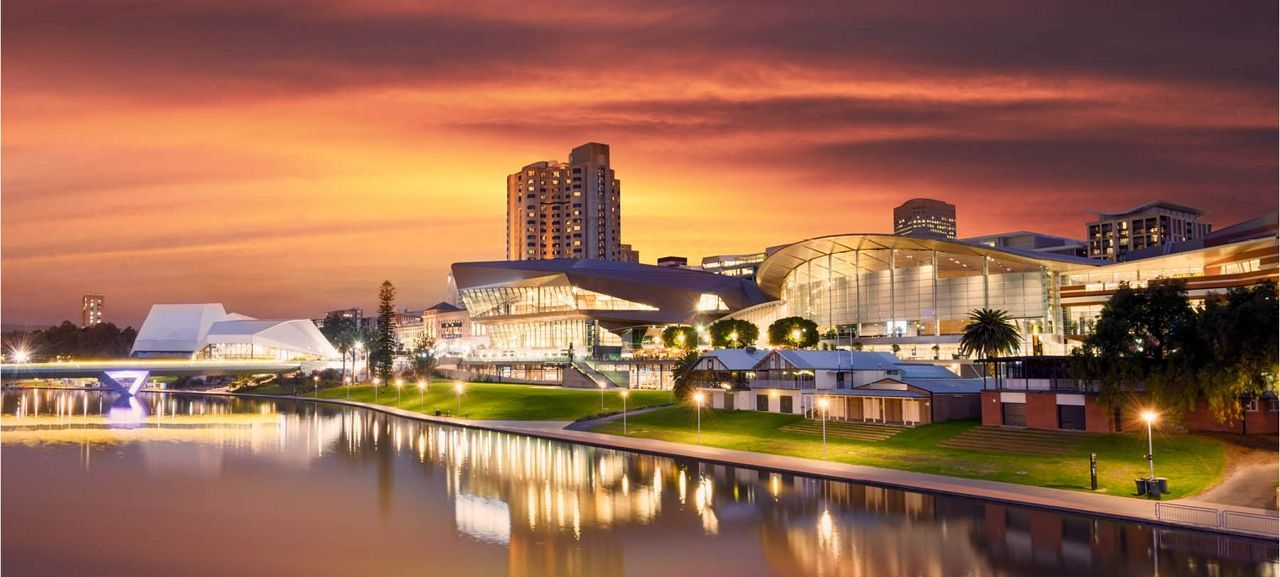 From visiting Adelaide Central Markets, to admiring the familiar animals at Adelaide Zoo, there's plenty to see and do during your stay here. As the fifth most populous city of Australia, you'll be spoilt with a buzzing city vibe and fabulous night life.
Your train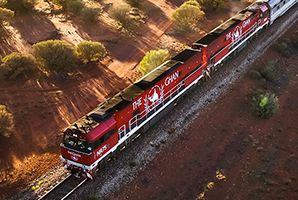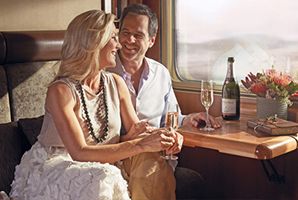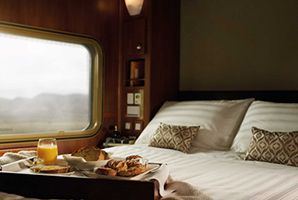 The Ghan
Often described as a 'national treasure', The Ghan makes an unforgettable voyage of discovery across the outback. In 2019, the legendary locomotive celebrated 90 years of service, dating back to the 1930s adventurers, when the first Afghan cameleers came to the land Down Under. Then, the Afghan Express as it was known provided a route from A to B; today The Ghan – the legend – offers a once-in-a-lifetime experience, following the tracks of pioneering explorers through the red heart of Australia, passing through parts of the great continent that most others cannot reach.
Today, the north to south journey (or vice versa) across country covers almost 3,000 kilometres of track, from the lush green plains of South Australia to the rusty, dusty Red Centre and the tropical foliage of Darwin.
While many changes have been made to the train and its route across Australia, the pioneer spirit remains the same. On board you'll discover fine dining and even finer wines, elegant cabins ranging from luxurious to the height of sophistication, attentive staff to ensure you make the most of this incredible experience, and a range of off-train excursions that show off the top sights of this mysterious, inhospitable land.
Find out more about
Prices & Availability
Select an airport and cabin grade.
Flight from
Other regional airports may be available*
CALL TO BOOK:
1300 729 595
HOLIDAY CODE:
AUS2432
You may also be interested in...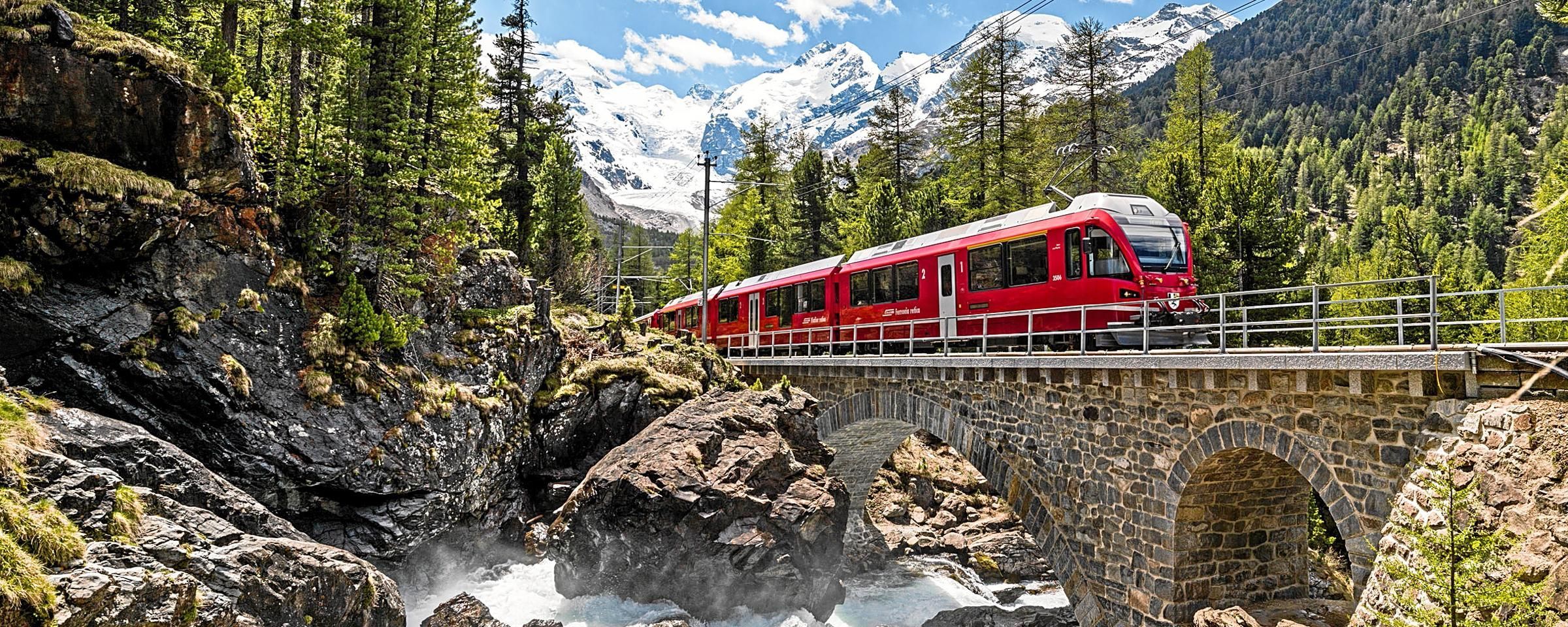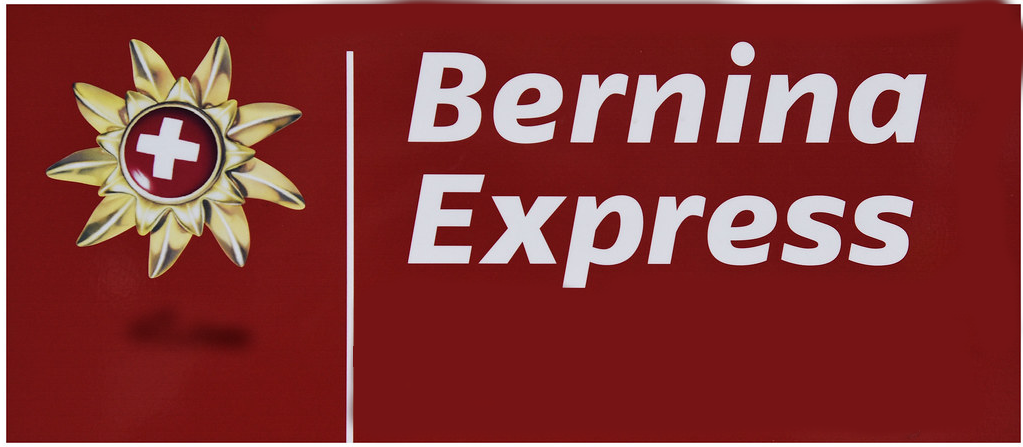 Italian Lakes Retreat and Scenic Swiss Rail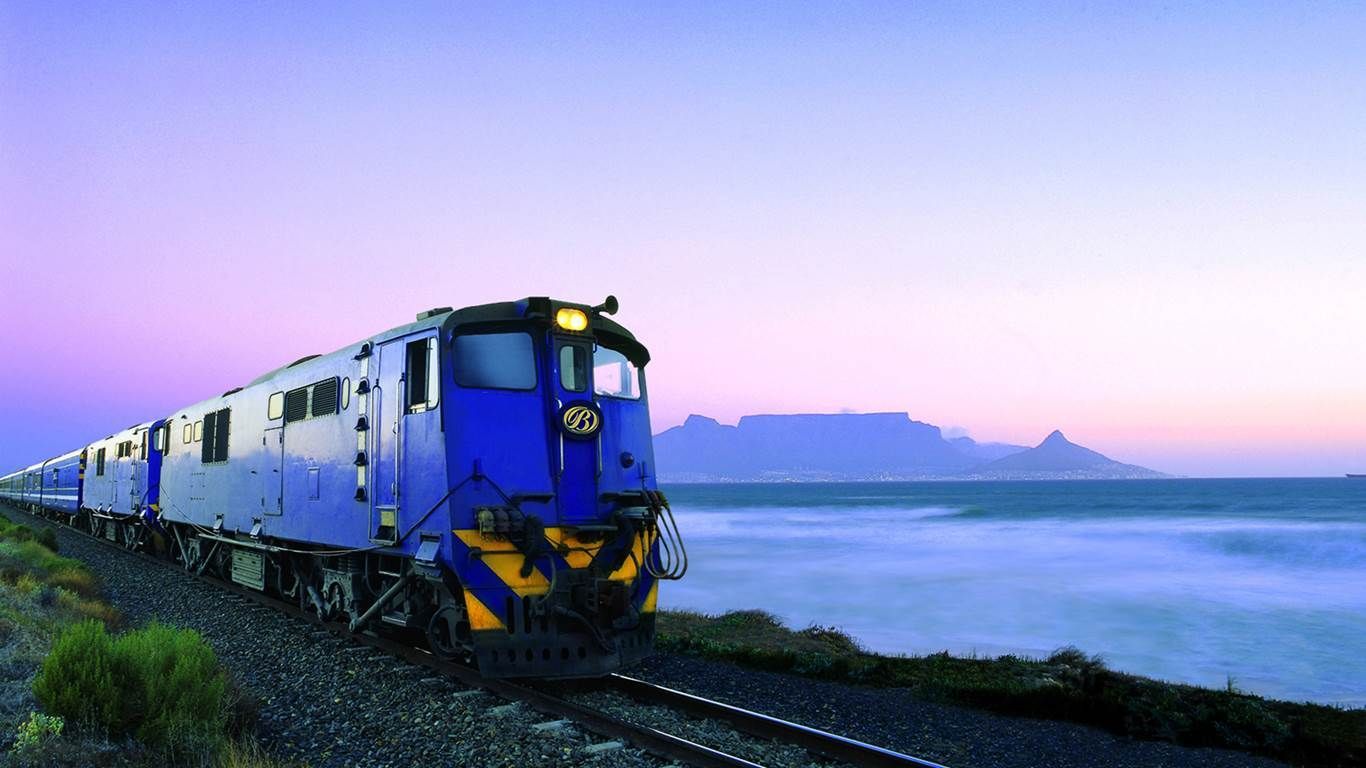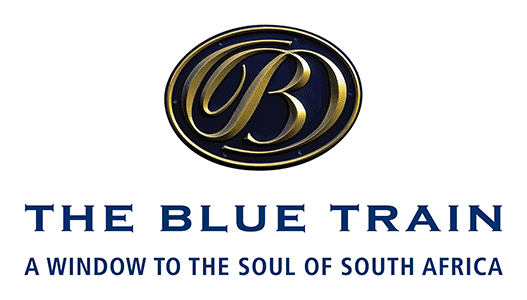 The Ultimate African Experience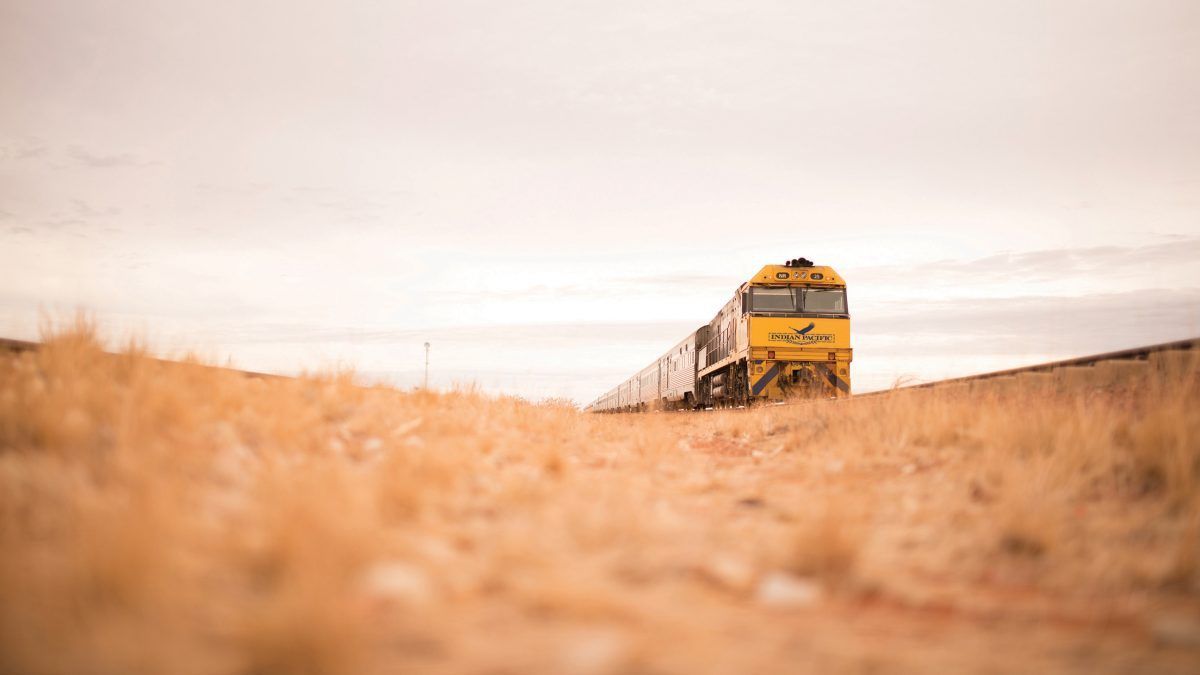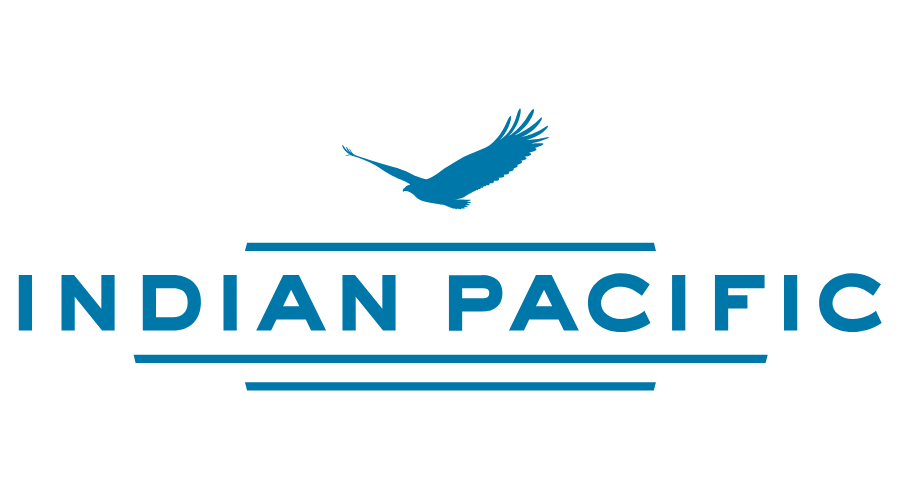 The Indian Pacific & Perth Discovery
Book with confidence
Book with complete confidence with us as we are members of the Australian Federation of Travel Agents, as well as being accredited by ATAS.
Fully Protected
You're in safe hands with a reputable, accredited travel agent.
Service & Expertise
Our experienced team create unique rail holidays tailored to you.
Highly Recommended
4.5/5 of our customers would happily rebook with us.
Exceptional Value
We're obsessed with delivering exceptional value on every rail holiday.