New Zealand
New Zealand is famous all over the world for its awe-inspiring scenery, ranging from soaring mountainscapes, to barren plains; verdant hillsides to deep gorges, towering glaciers to sweltering hot springs, and relaxed sandy beaches to fierce rugged coastline. With so much to explore within this fascinating destination, it can be hard to fit every treasure into one trip but travelling by rail makes the experience a little more unique as you'll delve deeper into the remarkable destinations from an entirely different perspective.
Marvel at the panoramic views of Auckland's beautiful city from atop the Skytower. Roam geothermal natural wonders in Rotorua where you'll encounter pools of boiling water, stunning geysers and puddles of effervescent mud. Indulge in an evening Maori village performance and traditional dinner; to learn more about the beautiful Maori culture. Embark on a scenic rail journey witnessing the ever-changing scenery as it unfurls before your very eyes, inhaling in the captivating scent of pine from the open-air carriage, and admire the breathtaking sights of Wellington's city, harbour and the ocean from Mount Victoria.
Train Journeys though New Zealand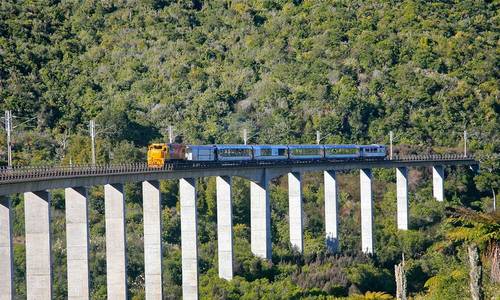 Northern Explorer Train
Experience the extremes of the spellbinding New Zealand landscapes as you journey on board the Northern Explorer, a long-distance scenic train service, covering 680km of New Zealand's finest scenery as it travels between Auckland, New Zealand's largest city and Wellington, New Zealand's harbour capital. As you journey through the central heartland of the North Island, you'll witness mesmerising sights, from imposing mountainscapes, dense greenery and plunging gorges, to the barren plains and treeless void of the Rangipo Desert – all from the comfort of the spacious carriages, illuminated by the light pouring in through the large panoramic windows, or head to the open-air carriage for a breath of fresh alpine air whilst you embrace the sweeping views.
Admiring breathtaking views of Auckland's city centre from atop the Sky Tower
Immersing yourself in the cultural spirit of Maori Culture as you're welcomed onto their sacred grounds in a traditional ceremony
Standing in awe of the Aratiatia Rapids as torrents of water tumble across the famous Huka Falls
Sitting back and relaxing in spacious, well-lit carriages as you journey through New Zealand's finest scenery
Book with confidence
Book with complete confidence with us as we are members of the Australian Federation of Travel Agents, as well as being accredited by ATAS.
Fully Protected
You're in safe hands with a reputable, accredited travel agent.
Service & Expertise
Our experienced team create unique rail holidays tailored to you.
Highly Recommended
4.5/5 of our customers would happily rebook with us.
Exceptional Value
We're obsessed with delivering exceptional value on every rail holiday.