About the train
It's often described as the finest way to cross the Alps, and the scenery that the Bernina Express passes through is certainly unforgettable. Not only does it bring together the alpine charm of St. Moritz and the green pastures of Chur, it also links the different languages and cultures of Switzerland, one of Europe's most visually spectacular countries, and Italy, the land of La Dolce Vita. The train ascends one of the highest railways in the mountains, amid shimmering glaciers, before descending to the palm-fringed lakeshores of Italy. Once you arrive in Tirano, there's an additional bus service to Lugano, back in Switzerland, passing along the glittering shores of Lake Como and Lake Lugano.
This is a shorter journey, so there are no luxury cabins or overnight stops, just a relaxing seat for whistle-stop tour of the Alps and a choice of refreshments on board.

On-board experience
The journey takes about four hours from start to finish, travelling more than 120km of track, and passing through 55 tunnels and 196 bridges and viaducts. The train makes 25 stops along the route and runs in both directions; to experience all of the thrilling curves, turns and jaw-dropping views, it's a treat to ride it from start to finish.
While you can take one of the standard regional trains on the same route, the Bernina Express offers panoramic windows for taking in the views (not to mention the personal space and better atmosphere). The service is also direct – no need to change trains or transfer your luggage.
The Bernina Express runs all year round, though its undoubtedly advantageous to travel in the spring and summer months, when the evenings are light enough to enjoy the views. During the spring, the landscape is blanketed in green, while the winter is also spectacular. Expect frozen lakes, snow-covered mountains and glamorous ski resorts.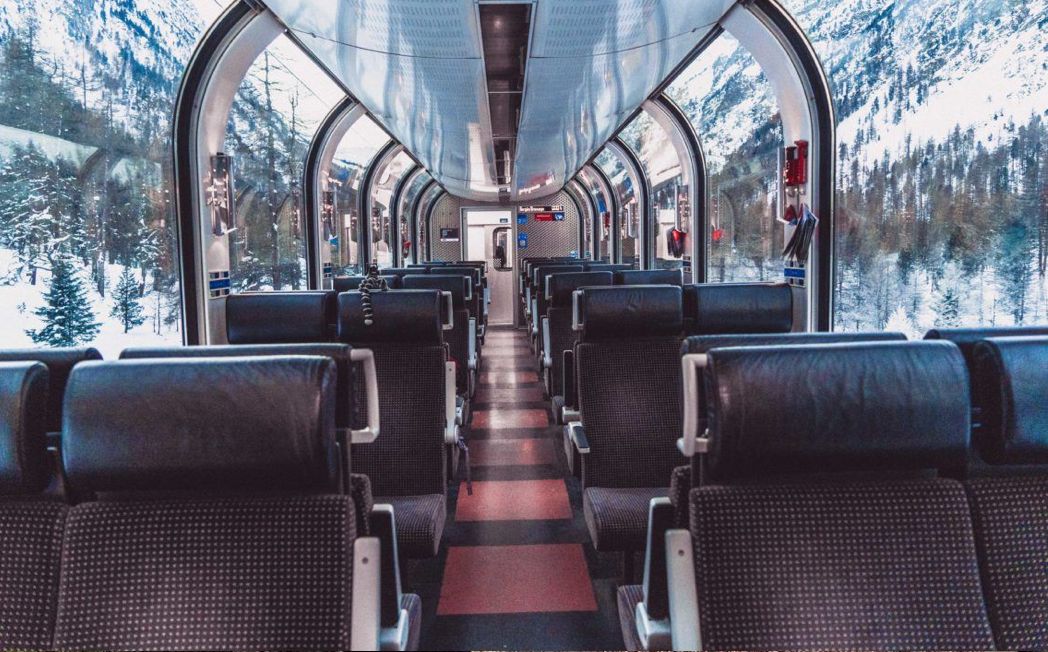 The train has both First- and Second-Class panorama cars, though the facilities on board vary per train. Wherever you sit, the entire trip is narrated from start to finish, with the insightful commentary providing details about the surrounding landscape.
New for 2019, during the warmer months from May to October, open scenic carriages will be attached to the Bernina Express between Davos Platz and Tirano, so you can take in the stunning views and fresh mountain air. The carriages have no glazed windows, so you are open to the elements with the ability to take stunning reflection-free photographs.
There are large luggage vestibules at the end of each carriage, so you can store your bags on board if you're travelling between different locations.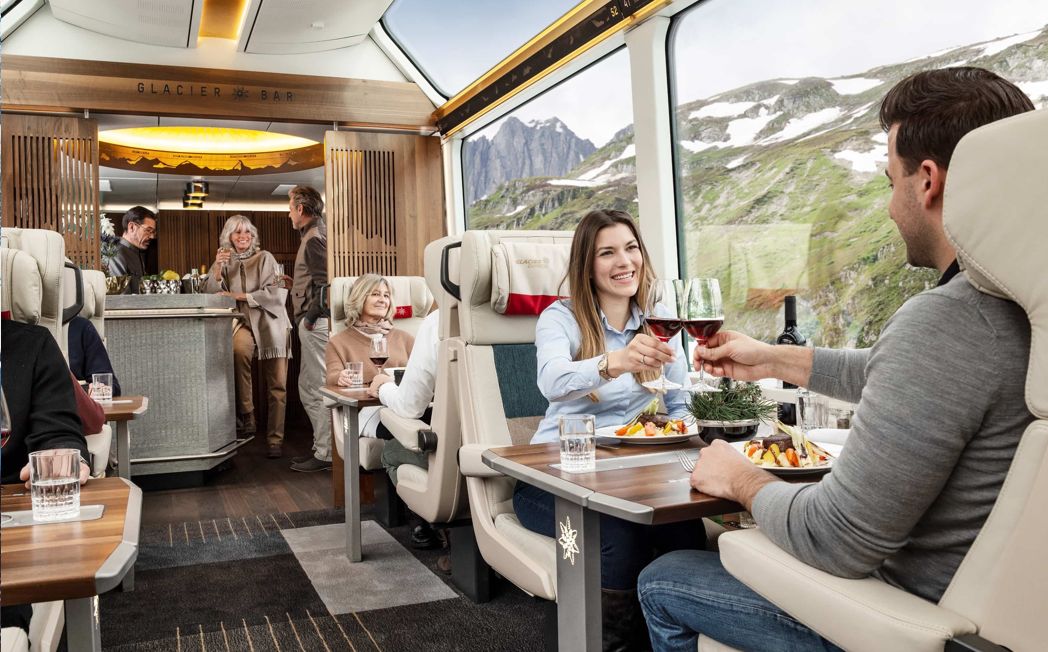 This is a four-hour service and therefore there are no cabins on board. Instead, you will enjoy relaxing seating in a choice of First- or Second-Class coaches, both with vast panoramic windows. In Second Class, settle in to a comfortable fabric seat with a small table for convenience. In First Class, there's a little more space – an arrangement of two plus one instead of two plus two – and relaxing leather seats.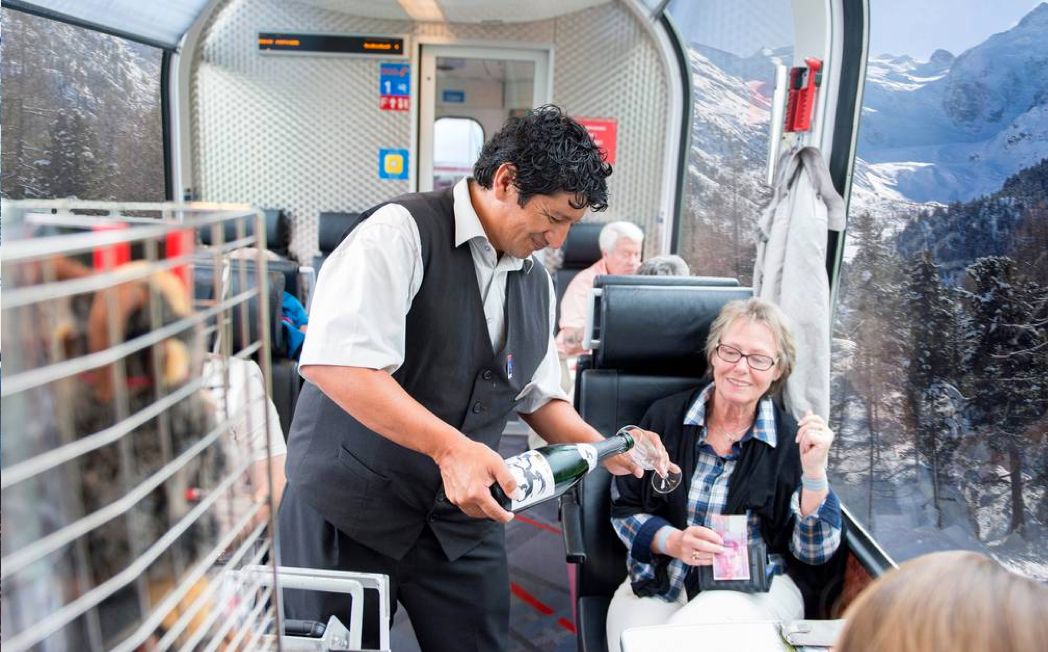 As you're not staying on board, there's no need to worry about transforming bunks between day and night. You will, however, benefit from the service of on-board stewards who can cater to your needs.
While the trip is a celebration in itself, it's possible to elevate your experience further for a special occasion, with the chance to book a package for you or a loved one – a birthday, wedding anniversary or just a surprise gift. You can have everything served to your seat by a steward, perhaps a glass of sparkling Grischa Secco, some slices of dry-cured Salsiz sausage and mountain cheese you can carve by hand on beechwood board with a pocket knife. All of the produce is locally sourced, so you can be sure of its provenance.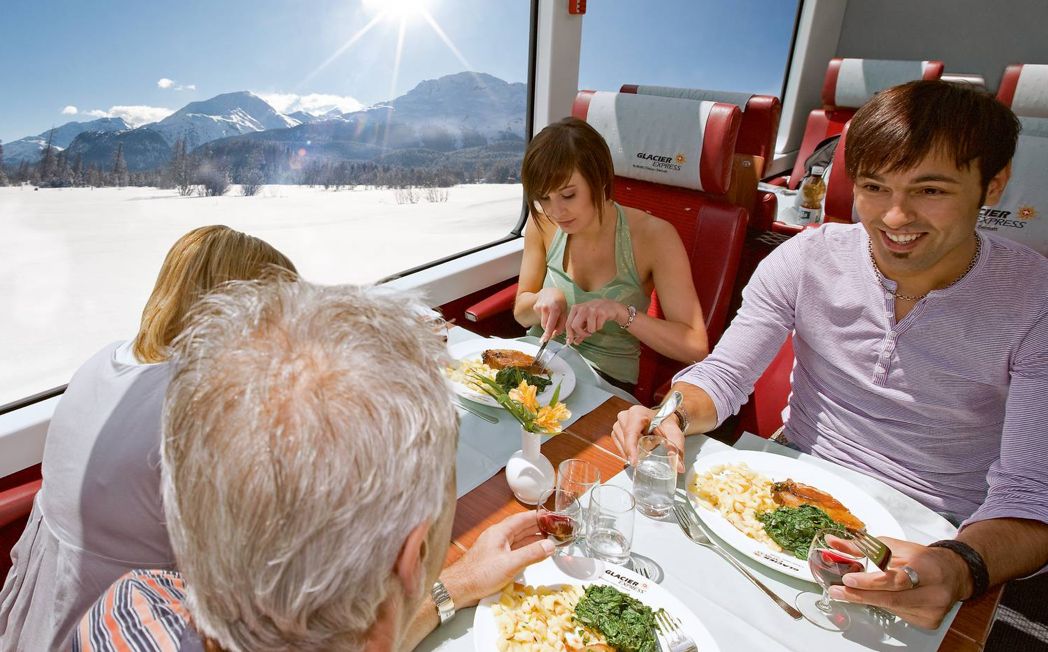 There's no restaurant car, but you will find a fantastic selection of restaurants in Poschiavo or Tirano, in Italy. A minibar (complete with giant cuddly ibex) served by friendly stewards is available on board, so you can enjoy a truly gourmet experience. Wait for the cry of "Coffee, something sweet, or Prosecco!" and make your choice; a glass of bubbly is certainly a worthy accompaniment to the views. Perhaps some slices of pear bread, traditional Engadin biscuits, or sausage and mountain cheese served on a platter to your seat. There's a range of drinks on offer, from local beers to international favourites, hot coffee for chilly days and wines from around the region. Book at least 72 hours in advance and you can also order lunch platters.
When the panoramic car of the train operates between May and October, special journeys will allow for a lunch or dinner service, when you can enjoy homemade Graubünden buckwheat pasta and regional delicacies.
General Information
Passport
If you're travelling the full distance, you will need your passport for the border crossing between Tirano/Lugano.
Book with confidence
Book with complete confidence with us as we are members of the Australian Federation of Travel Agents, as well as being accredited by ATAS.
Fully Protected
You're in safe hands with a reputable, accredited travel agent.
Service & Expertise
Our experienced team create unique rail holidays tailored to you.
Highly Recommended
4.5/5 of our customers would happily rebook with us.
Exceptional Value
We're obsessed with delivering exceptional value on every rail holiday.