Catering for all levels of travel, The Ghan and Indian Pacific offer comfortable and relaxing services for all. Choose between Platinum Service or Gold Service and watch your Australian adventure unfold.
Platinum Service
Providing you with a luxurious transcontinental holiday, Platinum Service promises and delivers a journey behind expectations. By day, your cabin will be transformed into a private lounge area with deluxe lounge seating, a table and two ottomans. By night, sleep easy as the lounges covert into a comfortable bedroom with either a double or twin bed.
Features include:

Full-size en suite equipped with shower, vanity with cupboard space, toilet and complimentary Australian bathroom amenities
Lockable door, power outlets and in-cabin safe
In-cabin music channels and journey audio commentary available
Picture windows offering views from both sides of the train
Choose to travel with Platinum Service Transfers at the start and end of your journey available for guests within 60km of the terminal
Freshly prepared continental in-cabin breakfasts served upon request
Refreshments served in-cabin
90kg luggage allowance per guest (3 x 30kg each)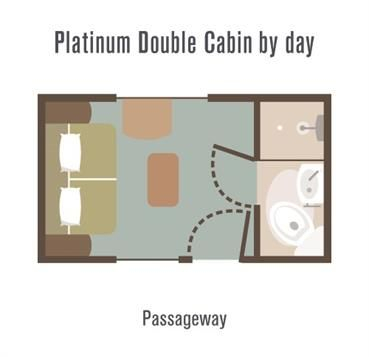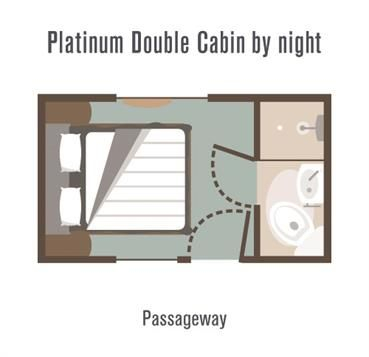 Gold Service
Watch tremendous secrets unfold as the train transports you from one end of the continent to the other. Gold Service is the most popular level of service aboard The Ghan, providing you with all the comforts of being at home.
Features include:
For Gold Twin, a comfortable sleeper cabin featuring private en suite and upper and lower berths that convert to a three-seater lounge by day
For Gold Single, a compact sleeper cabin featuring a bed that converts to a seat by day and shared shower/toilet facilities located at the end of the carriage
Power outlets in cabin
In-cabin music channels and journey audio commentary available
All-inclusive dining in the Queen Adelaide Restaurant
All-inclusive Australian wines, beers, base spirits and non-alcoholic beverages
All-inclusive Off Train Excursions and Short Stops
Luggage allowance is 60kg per guest
Complimentary Shuttle bus transfers available in Darwin to selected hotels in the city centre.